IFTDA Bans Navjot Singh Sidhu from Indian Films and Televisions. The governing body has take a Pledge to not work with Navjot Singh Sidhu and Pakistani Artists and Singer to show respect to the martyrs. On 14th February 2019, 42 CRPF jawans were killed at Pulwama attack by a Pakistani Suicide Bomber. After this tragedy, many Indians are protesting to ask government take revenge from Pakistan for this cowardly incident. On one hand where you find some people who understand the seriousness of this event. However, there are some people who are presenting unsavory comment.
Navjot Singh Sidhu is one such people. Therefore, Federation of Western India Cine Employees has boycotted Navjot from Sony Entertainment channel. Therefore, from now on you won't see him in Kapil Sharma show again.
Beside that a Press release has also came forward from Indian Film and Television Directors association. This press release put a ban on Navjot and Pakistani artists to work in any Indian Film and Television again.
IFTDA president Ashoke Pandit confirms this decision by signing the press release in which you can find info. of all these.
Below, I post the screenshot of the press release.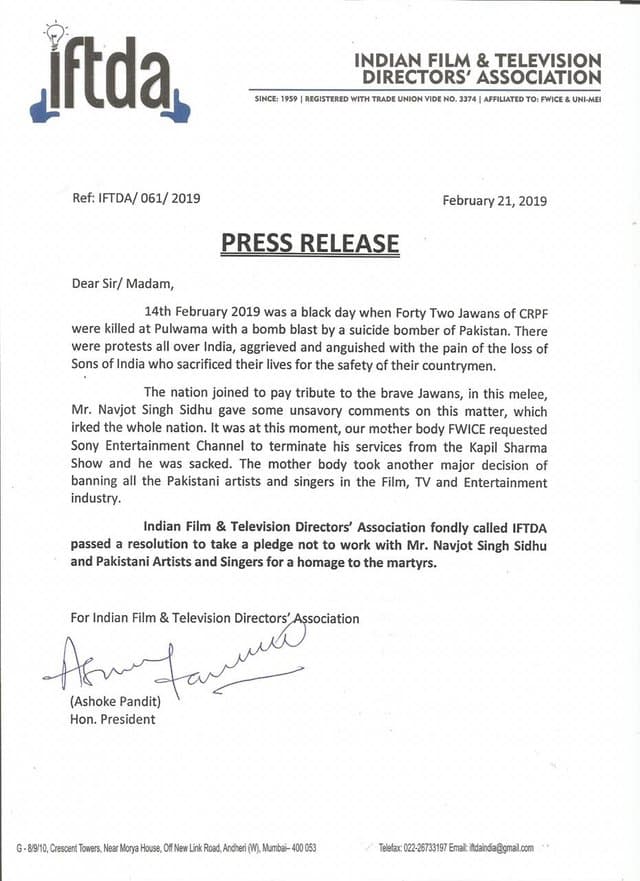 If you look closely, in the press release it is written that FWICE has also put a ban on all the Pakistani Artists and Singers. FWICE stands for Federation of Western India Cine Employees. This is the same body who governs all Cinema Associations in India. In India there are a total of 21 cinema associations that are affiliated to FWICE.
So, you can now find the seriousness of the letter above. It says you won't see Navjot Singh Sidhu in any TV serials or movies again.
Read also: Sacred Games Season 2 Shooting Finally Over